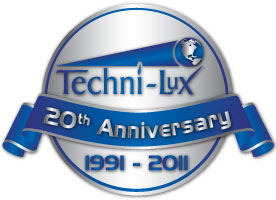 YOU'RE INVITED
Orlando, FLORIDA (April 21, 2011) – Techni-Lux, a leader in advanced lighting technology and accessories, is celebrating its 20th year in operation with an Open House Event in April.
When: April 21, 2011
Where: Techni-Lux. 10900 Palmbay Drive, Orlando, FL 32824
Time: 10:00am to 6:00 PM, doors open at 9:30 AM
Highlights: Industry Seminars with Richard Cadena of PLASA and Techni-Lux's in-houseLighting Designer, Tony Hansen will include Green Lighting Technologies, Don't remodel- RE-Light and a Panel Discussion on 21st Century Art & Technologies Integration. Our Technical Department will also be offering class sessions throughout the day; Moving Lights 101, Conventional Light care and trim and Basic DMX systems.
There will be facility tours and an exhibitors area showcasing many product lines. The open house and exhibits will be free, a full day class pass valued at $79 will be available free to early registrants at http://www.techni-lux.com/default.aspx?tabid=113#Registration. There will be food and beverages served all day along with lunch from 11:30 AM to 1:30 PM. Raffles and door prizes will also be given away hourly. The ceremonial cake cutting will be at 12:30 PM. For more detailed information and to sign up please visit: http://www.techni-lux.com/default.aspx?tabid=113
About Techni-Lux, Inc.:
Techni-Lux started operations in Orlando in 1991, bringing advanced lighting technology application to clients across a range of industries and uses. In 2008, they moved to their current facility where they are now headquartered. As an emerging industry, Alex Gonzalez, Vice President, has become a thought leader in light usage and technological advances, providing innovative and creative solutions to manufacturing problems.
Some major clients of Techni-Lux, Inc. include: Walt Disney World, Universal Studios, SeaWorld, Wet 'n Wild water park , U.S. Grant Hotel , Six Flags, and Tivoli Gardens.
Techni-Lux, Inc. , headquartered in Orlando, Florida, provides solutions to a diverse range of clients at the highest quality. Contact Techni-Lux, Inc. at 407-857-8770 or via email at www.techni-lux.com "Like" Techni-Lux, Inc. on Facebook.
###
Contact: Tony Hansen, Lighting Designer/System Sales
407-857-8770 x 111