_____________________________________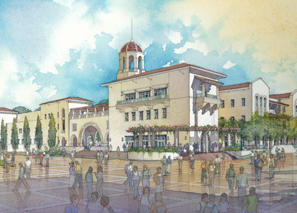 ESCONDIDO, CA--(For Immediate Release)--The Contracting Division of Sound Image (SI) has been awarded a $1.6M contract to provide Audio, Video and Control System equipment and installation services for the new Aztec Student Union Complex located on the campus of San Diego State University.
The 206,000 square ft. facility is scheduled to be completed in the fall of 2013, and will open its doors to the Aztec community as new "living room" of the campus, serving as a hub for study, socializing, connecting, relaxing, and eating.
"It's an honor being selected to work on this project, and with Mike Woomer and his staff at SDSU. In these tough economic times, it's very gratifying to be hired based on more than just providing the lowest-price bid", said Jason Schmidlapp, SI's Senior Estimator. "We've been told that our team was chosen based on the quality and thoroughness of our overall submittal package, which included a competitive price, a detailed schedule of values, our staff qualifications, our range of dealerships, and our overall reputation and experience".
Students, faculty, staff and alumni alike will get to enjoy the state-of-the-art, LEED Platinum-certified building that replaces the old Aztec Center, which served San Diego State University from 1968 to 2011.
SI's scope of work includes comprehensive AV and Control Systems integration for:
• 8-Conference rooms
• 2-Boardrooms
• 1-12-Lane Bowling Alley
• 1-Ballroom
• 1-Theater (for live performances and lectures)
• 1-Council Chambers Room
• 5-Resource Rooms
• 1-Conference/Leadership Room
• 1-Large Activity Area
• 5-Meeting rooms
The complex will also house the Associated Students offices, the ARC (Aztec Recreation Center), and a satellite fitness center.
Other key members of the project team include:
Cannon Design - Architect;
Sundt Construction - General Contractor
Berg Electric - Electrical Contractor
Veneklasen Associates - AV Consultant
About SI: Sound Image is a legacy Touring Sound and AV Contracting company with offices in Escondido, CA - Tempe, AZ - and Nashville, TN. SI's Contracting Division constitutes more than 20 years of commercial design, engineering and integration services. Very few AV Systems Integrators have the staff, experience and financial strength to continuously work with the most advance, professional AV technologies available. Sound Image does and has been doing so for decades.

As one of the nation's leading AV Integrators, we specialize in delivering the following services:
• Audio, Video and Control System Design and Consultation
• AutoCAD and Revit Engineering Services
• In-house Control System Programming
• Acoustical Room Modeling
• Systems Installation
• Equipment Sales and Service
• System Testing and Commissioning
• Complete Project Documentation
• Staff Training
_____________________
FOR MORE INFORMATION:
Sound Image can be reached at (760) 737-3900
or online at
www.sound-image.com
News Release Contact:
Samantha Stuppy
Contracting Administrator
(760) 737-3900|x2134
[email protected]*Graphic rendering courtesy of Cannon Design