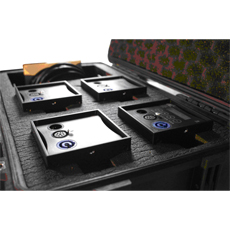 The Black Tank to give away a four pack of BRICKBLASTER Pro RGBW, the world's smallest professional LED fixtures, in Booth 420 at LDI 2011 in Orlando
Amesbury, MA. – The Black Tank has just announced a giveaway of a four pack of BRICKBLASTER Pro RGBW fixtures during LDI 2011 this October. The four pack contains four BRICKBLASTER PRO RGBW LED fixtures, four Neutrik 120VAC power cables, four beam diffuser three packs containing 20, 40 and 60 degree holographic diffusing film, two double yokes for ganging the fixtures in linear arrays and a TSA approved, rugged, watertight case with custom laser cut interior foam designed to protect the fixtures during portable applications. To participate in the free giveaway visit The Black Tank in booth 420 during LDI 2011.
The BRICKBLASTER Pro RGBW is a 50 watt, 1200 lumen, 4" cubed unit and is one of the most versatile professional grade lighting fixtures on the market today. The "Bricks" have found their way into theaters, cruise ships, themed environments, TV/Studios and architectural installations around the world.
"As a new company, we are excited to show off our entire product line, including the new Lumen Monster and our new LED UV Black Light, in our interactive booth at LDI," says President Robert Kodadek.
BRICKBLASTER Pro fixtures are also available in variable color temperature white (2800k to 6500k – 3110 lumen output), custom LED configurations and as an LED UV Black Light. The BRICKBLASTER Pro's unique features include a patent pending thermal management system, 120 VAC Input (no power supply needed), infinite color output, low power consumption, variable beam angles (20°, 40°, 60°, 60x1°), rigging for multiple tracks, yoke, linear or stacked arrayed configurations, full speed 8 and 16 bit DMX and standalone operations.
The entire BRICKBLASTER product family, including the WNC, and the Black Tank's new fixtures- the UV Black Light and the LUMEN MONSTER, will be on display in The Black Tank's Booth in Orlando October 28th to the 30th.
ABOUT THE BLACK TANK
The Black Tank is an LED fixture manufacturer dedicated to making innovative fixtures that work in a range of applications – including theatrical, TV/film, museum and architectural. The BRICKBLASTER PRO family consists of a variety of compact 50 watt / 4" cubed LED fixtures that have incredible output and features. The fixtures' unique features include a patent pending thermal management system, customizable LED color options, interchangeable beam angles, DMX or standalone control capabilities and the ability to form linear or stacked arrays.