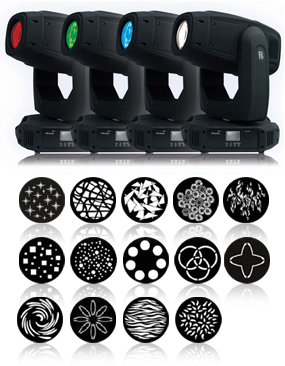 San Antonio, TX, November 22, 2013 - PR Lighting introduces the extraordinarily feature full XRLED 500 Spot. This remarkable unit has an ultra bright 280W LED with RGBW linearly adjustable color changing. The color temperature is adjustable from 2,700K ~ 10,000K, outputting the perfect white light for any application. The beam angle is linearly adjustable from 12° ~ 36°.
The XRLED 500 Spot is extremely feature full. The unit boasts variable speed bi-directional rainbow effect and 1x3 facet prism. The unit has two gobo wheels with exciting new designs; one rotating gobo wheel with seven gobos (plus white) and one fixed gobo wheel with seven gobos (plus white).
The XRLED 500 Spot performs. It is very fast moving with 540° pan and 270° tilt with auto position correction. It relies on LED technology, making it efficient and eliminating the need for lamp replacements. It features strobe and a linearly adjustable dimmer. The unit is controllable via DMX512 with both 3-pin and 5-pin inputs and outputs.
The XLED 500 spot answers the call for more powerful yet compact LED spot fixtures. It is 16.1" x 13.3" 25.6" and weights only 51.8 lbs.The XRLED 500 Spot from PR Lighting leads the way in lighting innovation and reliability.
Mega Systems, Inc. is the exclusive distributor for PR Lighting in the United States.
Mega Systems, Inc.
www.megasystemsinc.com
Phone: 210-684-2600
5718 Kenwick St.
San Antonio, TX  78238